The second summer festival Belgrade River Fest enriched Belgrade's cultural offer and brought another amazing musical rhapsody to the banks of the Sava, and there is no doubt that these two warm June evenings will be long remembered by local visitors and foreign tourists.
On the first evening of the Belgrade River Fest – which marked June 21 – World Music Day – today's greatest opera diva, soprano Anna Netrebko, her husband and famous tenor Jusif Eyvazov and the celebrated Serbian baritone Zeljko Lucic performed, accompanied by the Symphony Orchestra and Choir Radio Television of Serbia. More than 160 artists on stage, members of the orchestra and choir bowed in the magnificent outdoor concert hall in front of several thousand visitors, who saw them off with loud applause and satisfied smiles. This trio performed some of the most famous opera arias, and at the top of the concert, Anna Netrebko danced barefoot in all her grace, leaving the audience almost breathless.
The superb organization, elegance and refinement of the space where the event was organized and the divine music contributed to making this evening a magic that is hard to recount and which made many shiver, cry and dance late into the night.
Before the performance, a cocktail was held for all visitors, who had the opportunity to walk the red carpet on the plateau in front of the Geozavod and enjoy wines from renowned local wineries. Numerous celebrities from the world of art did not miss the opportunity to enjoy a unique spectacle that is rarely seen in our region. The end of the magnificent performance was marked by unforgettable fireworks in the starry sky above the Sava.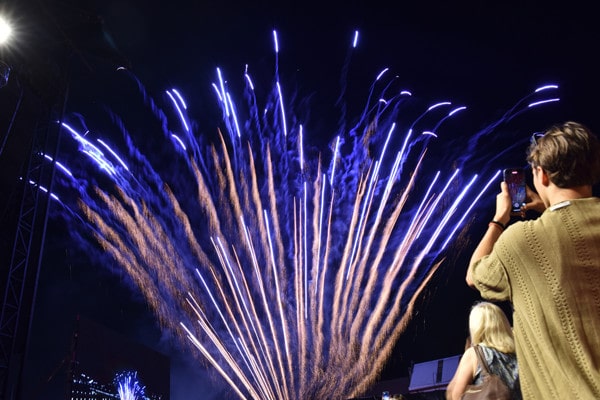 Combining Sephardic sevdah, jazz, flamenco and melancholic rhythms of the Orient in her gorgeous voice, Yasmin Levy, one of the world's biggest world music stars, brought down the curtain on this year's Belgrade River Fest, a prestigious music festival on the river bank, with a spectacular performance on the plateau behind the Geozavod.
The magical Mediterranean night in Belgrade Waterfront was marked by the touching emotions of Yasmin Levy, who, accompanied by virtuoso musicians, won the hearts of the Belgrade audience with her powerful voice and impressive charm. Several thousand spectators greeted each of her tracks with applause, and the entire musical spectacle was completed with a multi-minute fireworks display that lit up the Sava Promenade and enchanted everyone present.
By bringing in world music names whose performances are reserved for the most prestigious music halls, the Serbian capital is becoming a cosmopolitan city that will year after year attracts more and more attention from visitors from the region and beyond, thus becoming a new first-class artistic destination from which local and foreign guests bring some of the most touching memories, colored by wonderful emotions that only music can bring.