New Year's Fireworks from Kula Belgrade in numbers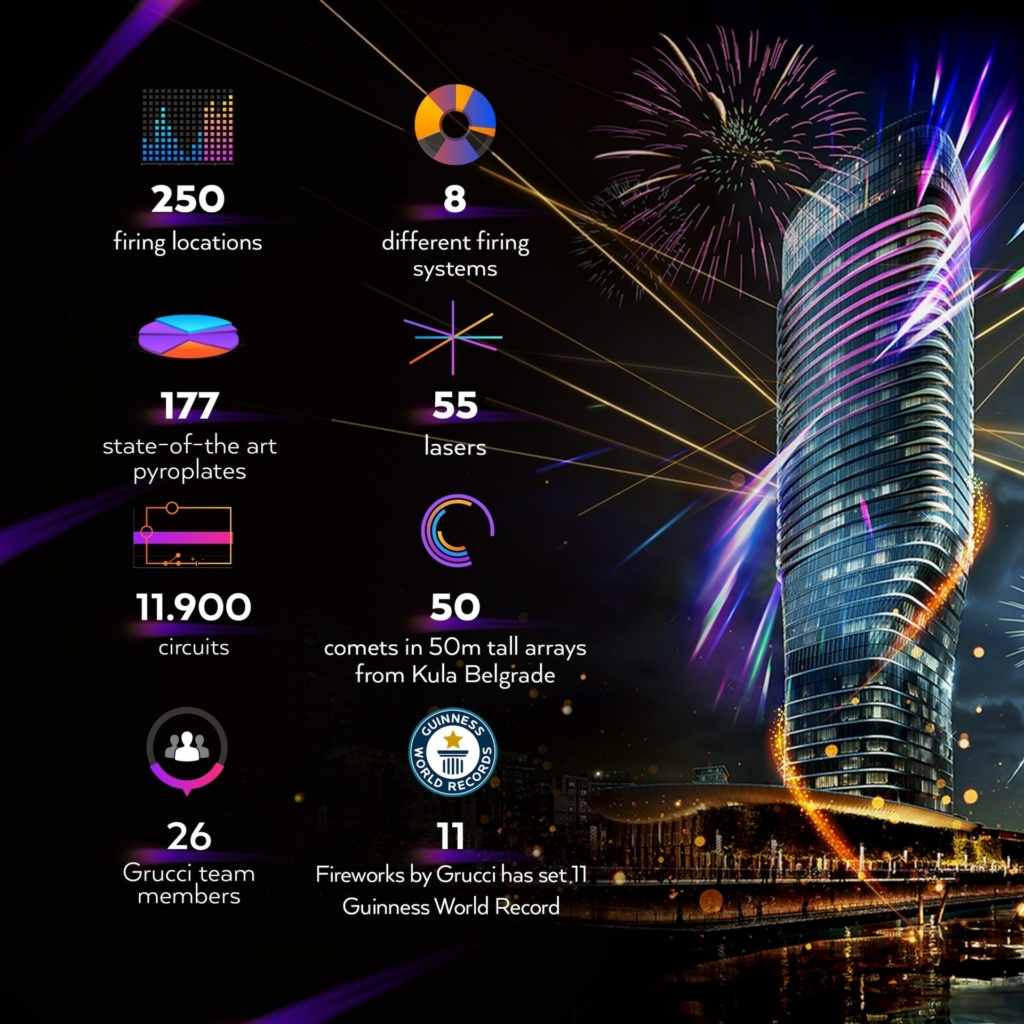 New Year's Eve 2022 near the Sava, in Belgrade Waterfront, will be an unforgettable spectacle that should not be missed, because such an event has never been seen in this region! Fireworks from eight different systems, from 250 positions, will rise at midnight between December 31 and January 1 from Kula Belgrade, the new symbol of the city, while the sky will be painted with lights from 55 powerful lasers.
The world-class spectacle, that will be remembered for a long time, is organized by Belgrade Waterfront in cooperation with the company "Fireworks by Grucci", which has broken an incredible 11 Guinness World records. As many as 26 pyrotechnicians will make sure that the most important night of the year is unforgettable, and the preparations for this magnificent show last for three weeks.
"We are pleased to be part of the most spectacular New Year's Eve in this part of Europe and to present Kula Belgrade to spectators around the world. All visitors will be stunned by the light effects that will outline the magical silhouette of Kula Belgrade, a construction masterpiece, on the skyline of the city", says Phil Grucci, Genaral and Creative director of "Fireworks by Grucci".
The eight-minute programme from Kula Belgrade, with music composed especially for this occasion, will start with a magical play of laser beams, and will continue with a grand countdown to midnight on the media facade that stretches from the 14th to the 39th level of the tallest building in the region. If all lights on the media facade were arranged in a row, their lenght would be 8 kilometres.
As many as 177 pyro-plates and an incredible 11.900 circuits will be used for the magnificent fireworks, yet unseen in Serbia. Luminous comets will be fired from 50-meter-long arrays mounted on Kula facade, and fireworks will be released from the New Belgrade's river bank, so its reflection in the Sava will complement the magic that will happen over the Belgrade on this night. Our capital will enter 2022 illuminated just like the world's largest metropolises such as New York, Dubai or Sydney, so this is an event that should definitely be seen live.
Starting from 8 pm, visitors will warm up to the temperamental rhythms by Angellina, Coby and Sasa Kovacevic, and at 11 pm, the star of the evening Goran Bregovic will perform on the stage next to the Old Sava Bridge, and sing his famous hits together with Tifa.